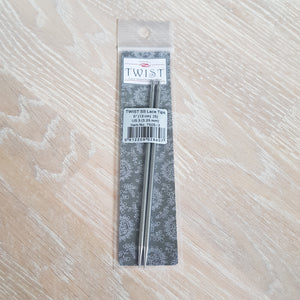 The Red Lace Twist Interchangeable tips are manufactured from stainless steel and feature a lifeline hole that makes adding a lifeline as simple as knitting across the row. Combined with the Twist Red Cable these tips make a top quality circular needle with excellent knitting properties. The needle size is engraved on the tips with laser.
Please note that cables must be purchased separately.
Sizes 2.75 mm (US 2) – 5 mm (US 8) have a SMALL [S] join and can be used with SMALL [S] diameter cables.
Sizes 5.5 mm (US 9) – 10 mm (US 15) have a LARGE [L] join and can be used with LARGE [L] diameter cables.