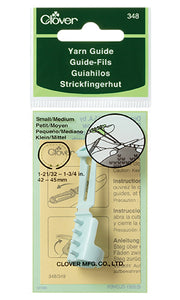 A convenient ring type yarn guide. Helpful while knitting with two or more yarns. Passing the yarn through the guide allows you to smoothly separate and knit two or more yarns for stranded knitting or color work.
・The cover can be opened and closed for easy insertion and removal of yarn.
・There is no need to worry about yarn slipping off during knitting.
・Easy-to-fit open ring
・Inner diameter: S/M: 42-45 mm
 L: 45-48 mm
Enjoy multi-colored knitting!